Beta Guard Tablets
Beta Guard Tablets work to protect against air pollutants as well as toxins and other airborne chemicals. It is also effective for anyone that spends a lot of time in an air-conditioned environment. In the event somebody suffers from respiratory disease, they are encouraged to consume this product.
The tablet was formulated by one of the world's leading toxicologists, Dr. Arthur Furst, who specializes in the study of toxins and their effects on human health. He understood that The world is changing, but some things have stayed the same. For example, we need to protect ourselves against the harmful agents in our air, water, and food. The Beta Guard Tablets were formulated specifically to assist in defending the body against these harmful agents.
This supplement is a whole-food supplement for fighting oxidative stress in the body. Carrot concentrate provides natural beta carotene, plus other antioxidants that support your antioxidant system. Beta Guard Tablets are packed with beta-carotene, and whole food-sourced vitamins C and E to provide protection against environmental pollutants. As much beta-carotene as 2 carrot sticks!
Beta Guard works against air pollutants but also toxins and other airborne chemicals. You'll be able to protect yourself against these in both highly polluted environments as well as ones that have an A/C system. In the event that someone has problems with respiratory diseases.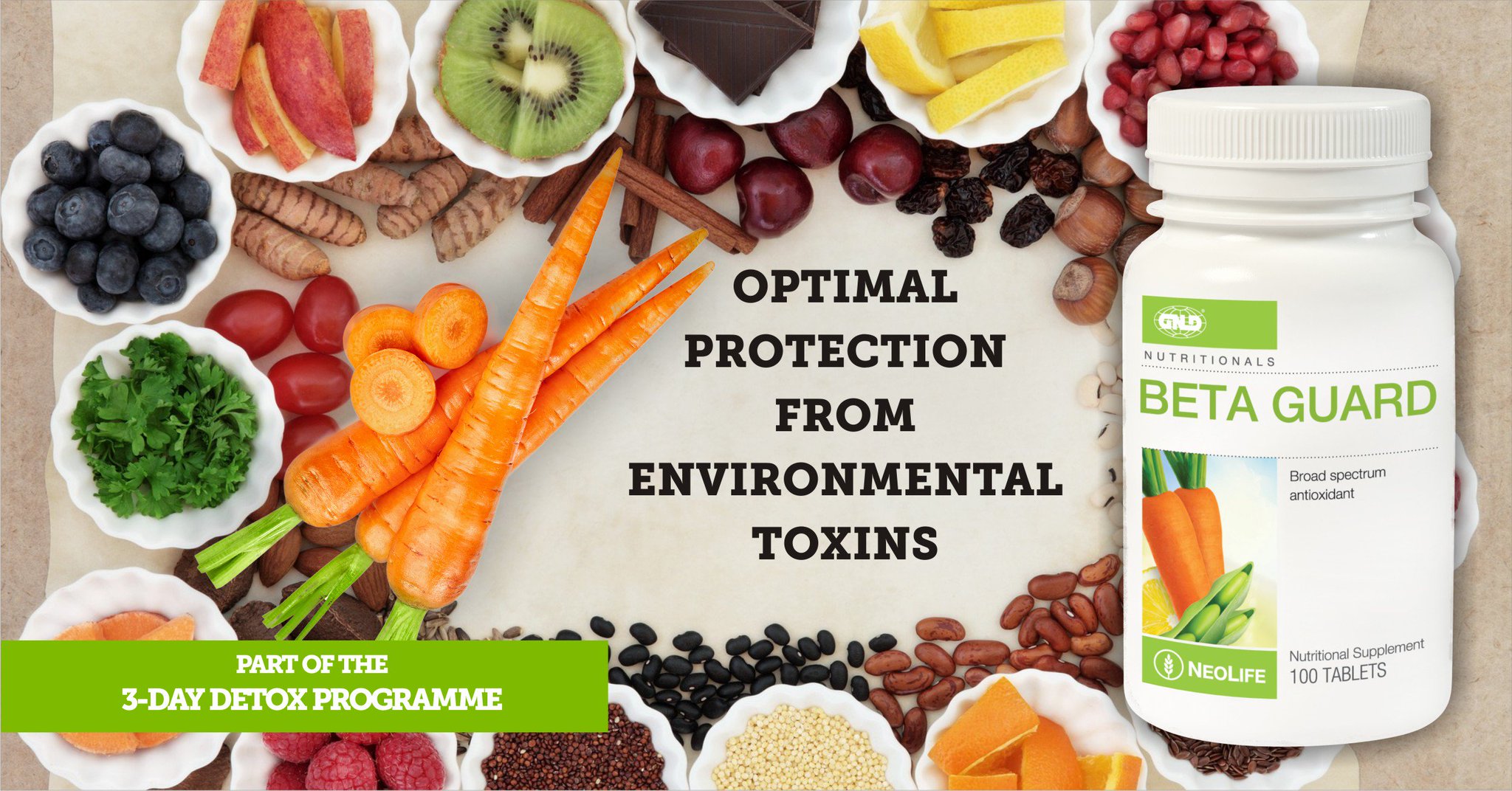 Health Benefits Of Beta Guard Tablets
Promotes the body's natural detoxifying process.
Provides protection against free radicals, oxidation, and toxic pollution.
Protects the Lungs against infections.
Neutralize the toxic effect of alcohol and smoke.
Dosage and Administration
Precaution/Side Effect
Store in a cool dry place.
Keep away from children.
No side effects.
Key Ingredients
Beta-carotene, Vitamin E, Vitamin C, Niacinamide, Vitamin B6, Vitamin B12, Chelated Zinc (Amino), Selenium (Yeast) Chromium (Yeast)
Quantity
Recommended Bottles
We recommend taking 2 to 3 Bottles
Suitable For
Expert Advice
For a full detox take this product in combination with these others:  Neolife Fiber Tablets and Neolife Garlic Allium Complex supplement. (However, note that this is optional).
For more updates and customer support Join Our Facebook Group: Daily Health Tips,
Also, Like and follow our Facebook page:  Recs-Medix Natural Solution.